Need Help Now?
24 HOUR HOTLINE
1-800-452-7990
TTY # 7-7-1
I Am Responsible
When anyone, anywhere reaches out for help, I want the hand of A.A. always to be there. And for that I am responsible.
The 12 Steps of A A
Here are the steps we took, which are suggested as a program of recovery:
The 12 Traditions
"Our Traditions are a guide to better ways of working and living," co-founder Bill W. said. "And they are to group survival what A.A.'s Twelve Steps are to each member's sobriety and peace of mind... Most individuals cannot recover unless there is a group. The group must survive or the individual will not."...
IS A.A. FOR YOU?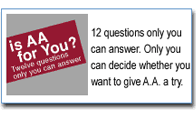 Only you can decide whether you want to give A.A. a try — whether you think it can help you

We who are in A.A. came because we finally gave up trying to control our drinking. We still hated to admit that we could never drink safely. Then we heard from other A.A. members that we were sick. (We thought so for years!) We found out that many people suffered from the same feelings of guilt and loneliness and hopelessness that we did. We found out that we had these feelings because we had the disease of alcoholism.
We decided to try and face up to what alcohol had done to us. Here are some of the questions we tried to answer honestly. If we answered YES to four or more questions, we were in deep trouble with our drinking. See how you do. Remember, there is no disgrace in facing up to the fact that you have a problem.

What is Alcoholics Anonymous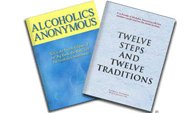 Alcoholics Anonymous® is a fellowship of men and women who share their experience, strength and hope with each other that they may solve their common problem and help others to recover from alcoholism. The only requirement for membership is a desire to stop drinking. There are no dues or fees for AA membership; we are self-supporting through our own contributions. AA is not allied with any sect, denomination, politics, organization or institution; does not wish to engage in any controversy, neither endorses nor opposes any causes. Our primary purpose is to stay sober and help other alcoholics to achieve sobriety.>Copyright © by 
The A.A. Grapevine, Inc.
District 71 - Where our Group's GSRs Meet Once A Month...
General Service Representative — G.S.R.

"The general service representative has the job of linking his or her group with A.A. as a whole. The G.S.R. represents the voice of the group conscience, reporting the group's thoughts to the district committee member and to the delegate, who passes them on to the Conference. This communication is a two-way street, making the G.S.R. responsible for bringing back to the group Conference Actions that affect A.A. unity, health, and growth. Only when a G.S.R. keeps the group informed, and communicates the group conscience, can the Conference truly act for A.A. as a whole."

– The A.A. Service Manual, p. S26